Supplies:
Wise men with star illustration
Wise men with gifts illustration
Craft Stick Star
People everywhere began to hear the good news that God's son was born. Some men called wise men learned that Jesus was born. But they didn't hear it from their friends. They didn't hear it from angels either. They found out in a very special way.
One night the wise men were looking at the sky and watching the stars. They saw something that was as bright as an angel. It was a big, bright, beautiful star! (show star)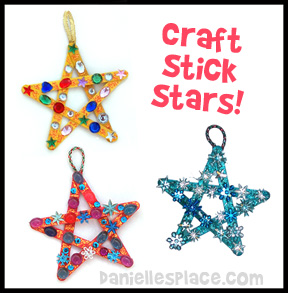 It was bigger and brighter than all the other stars. One of the wise men said, "this must be a special star from God. Lets follow it!"
The wise men packed their clothes and climbed on their camels. It would be a long trip! The bright star kept shining and the wise men kept following it (show wise men with star illustration).
The wise men came to a big city where the king lived. They thought, "this must be where God's son is. He must live with the king!" But Jesus did not live with the king. He lived in the little town of Bethlehem. The wise men kept following the star. One day the star stopped. It stopped right over the house where Mary, Joseph and Jesus lived!
The wise men went inside and found what God wanted them to find. Baby Jesus! The wise men were so happy when they saw God's son that they knelt down and prayed to Him (show wise men with gifts illustration).
Then they gave Jesus some very special presents to show that they loved Him. They were so happy that God sent the star so they could see Jesus!
Craft ideas:
Craft Stick Stars (scroll down)
Tissue Paper Star Craft
Wise Men's Gifts Craft
Wise Men and Star Coloring Pages
The words of this story were copied from some preschool Bible flashcards that belong to my mom (

copyright by CRC Publications 1988

...this is the only info I have on the cards. I'm not sure where they originally came from). I am posting this for Sunday School and homeschooling purposes only and I do not claim myself as the author of these stories.